Fraser Island Adventure Ride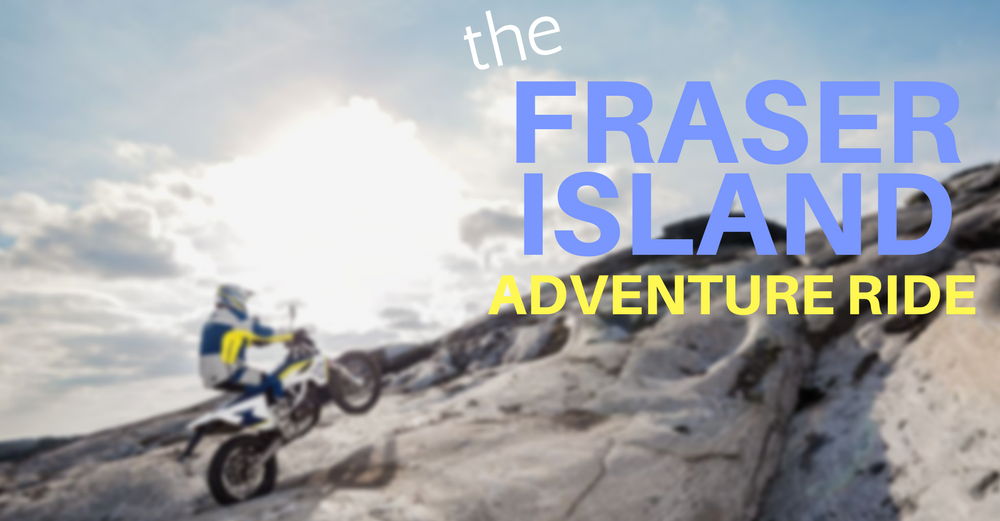 It's official, Moto GC will be heading back to Fraser Island for another epic adventure! 
How does 5 days of AWESOME sand, beach and rainforest riding with a bit of pool, spa, bar sound to you?
Enjoy the sun, the beach and the endless trails this glorious land has to offer. We organise everything for you flights, accommodation, bike transfer, everything - all you need to do is bring a good attitude. 
Spots are limited, first in best dressed! 
Finer details:
When: October 22nd to 26th, 2017
Price: $2750 per person
Riding level: Intermediate 
Melbourne, Australia Prices only. 
A $1,000.00, non refundable deposit will be required for booking flights etc once we have numbers.
Call Glenn on 03 9038 9133 to book.
With:
1,000km of sandy tracks to hook into.

Miles of beach to ride on.

Pristine creeks to cross or stop and swim in with water temp of 22 Degrees +

Clear freshwater lakes that you can ride up to and swim in during the day.

Fantastic buffet Breakfast and dinner's most days.

Resort style accommodation each night.

Pools and spas to come back  to each  night

Rain forests to ride through surrounded by untouched bushland.
Including.
Return Bike transport to Queensland from Melbourne.

Return airfares from Melbourne to Hervey bay.

Return Ferry fee's to & from Fraser Island.

5 Nights Accommodation  

Main Meals during the trip

Vehicle to carry gear etc to Fraser Island.

Fuel for Bikes ( not 2 stroke oil)

Park/ island fee's, taxes and permit

Special Personalised Trip Top
Not included in Price.
Spare parts, oils and Lubricants

Trail snacks and drinks

Taxi fees from airports at each end.

Alcohol and night club entrée fees.