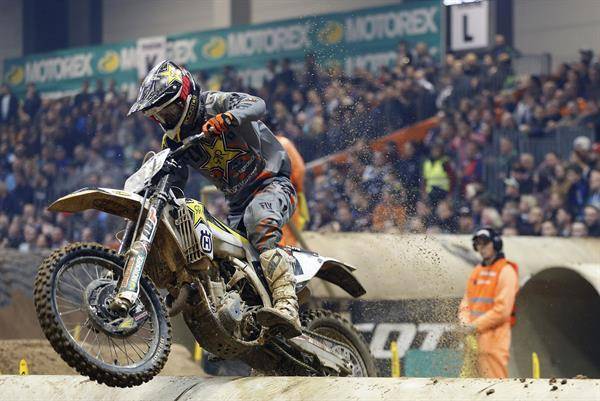 ROCKSTAR ENERGY HUSQVARNA FACTORY RACING STAR TAKES RUNNER-UP FINISH AT SECOND STOP OF THE SUPERENDURO WORLD CHAMPIONSHIP
Bouncing back from a frustrating performance at the opening round of the 2018 SuperEnduro World Championship, Rockstar Energy Husqvarna Factory Racing's Colton Haaker has made a welcome return to the SuperEnduro podium with a strong runner-up result at round two of the series in Riesa, Germany.
Feeling more in tune with his racing, and mostly staying out of trouble during the night's three races, Haaker consistently placed at the sharp end of the field. Grabbing the holeshot in race one, he immediately put on a charge. But shortly afterwards a small crash cost him the lead and dropped him back down the field. Regrouping, he worked his way back to finish a well-deserved second.
Putting in his best showing on the night, Haaker claimed the win in race two to set up a potential overall win heading into the third and final race of the night. Tangling with another rider off the start, Haaker damaged his clutch lever. Salvaging seventh, he missed out on his chance of victory but still claimed second overall.
Continuing to impress in his rookie SuperEnduro season, Billy Bolt again delivered a strong performance, just missing out on a podium result with fourth overall in Germany. Improving with each race, Bolt placed fifth, fourth and finally third to place a creditable fourth.
For Alfredo Gomez, it was a night of mixed fortunes. The highlight came with a second-place result in race two, but seventh in race one ultimately hampered his overall result with the Spaniard ending his night in sixth position overall.
The FIM SuperEnduro World Championship continues with round three in Malaga, Spain on February 17th.
Round two of the FIM SuperEnduro World Championship marks the beginning of a strategic global partnership between Husqvarna Motorcycles and MOTOREX. All new Husqvarna models – both offroad and street – will be first filled with MOTOREX lubricants. In addition, the Swiss manufacturer has become an official partner of Rockstar Energy Husqvarna Factory Racing, supplying their comprehensive range of lubricants, care and maintenance products to Husqvarna's official Enduro, Rally, Supercross and Motocross teams.
Colton Haaker: "It feels good to be back on the podium. Things just didn't go my way in Poland but tonight it was a lot better. I think it's taken me a little longer than I expected to recover from my elbow injury but we're 85 per cent there now. I've got a few more weeks to ride and train before round three so hopefully there I can get back on to the top step of the podium again."
Billy Bolt: "It's been another great night for me. I felt strong all evening and didn't make too many mistakes. I'm happy with how I'm settling into SuperEnduro as it's really only my second time racing indoors like this. We almost had third overall in the bag, in fact I did stand on the podium and spray the champagne but when the officials adjusted the penalty awarded to Taddy Blazusiak in race two that ultimately dropped me back to fourth."
Alfredo Gomez: "Things are coming good but it's still early for me as it's only my second race back with Husqvarna. The competition is very tight and any mistakes are costly. I'm very happy with second in race two, I just needed a little bit more luck in the other two races. I've two home rounds in Spain coming up so I'm looking forward to that now."
Download high-resolution images here.
Results – FIM SuperEnduro World Championship, Round 2
Prestige Class - Overall
1. Cody Webb (KTM) 58pts; 2. Colton Haaker (Husqvarna) 45 pts; 3. Taddy Blazusiak (KTM) 43 pts; 4. Billy Bolt (Husqvarna) 39 pts; 5. Jonny Walker (KTM) 37 pts; 6. Alfredo Gomez (Husqvarna) 36 pts… 14. Alex Salvini (Husqvarna) 5pts
Prestige Race 1
1. Cody Webb (KTM) 7:27.268; 2. Colton Haaker (Husqvarna) 7:44.877; 3. Jonny Walker (KTM) 7:48.184; 4. Taddy Blazusiak (KTM), 7:54.616; 5. Billy Bolt (Husqvarna) 7:59.974... 7. Alfredo Gomez (Husqvarna) 8:08.994… 13. Alex Salvini (Husqvarna) 7:35.257 +2 laps
Prestige Race 2
1. Colton Haaker (Husqvarna) 6:57.242; 2. Alfredo Gomez (Husqvarna) 7:00.773; 3. Cody Webb (KTM) 7:01.628; 4. Billy Bolt (Husqvarna) 7:06.339; 5. Manuel Lettenbichler (KTM) 7:13.357… 12. Alex Salvini (Husqvarna) 7:24.967
Prestige Race 3
1. Cody Webb (KTM) 7:29.752; 2. Taddy Blazusiak (KTM) 7:36.774; 3. Billy Bolt (Husqvarna) 7:44.550; 4. Jonny Walker (KTM) 7:53.747; 5. Alfredo Gomez (Husqvarna) 7:53.753… 7. Colton Haaker (Husqvarna) 8:00.488